Envelopes come in all shapes and sizes as do the windows that are sometimes needed. We can print you basic / standard regulars (no windows) and windows with special size and position. We can print full color or simple black and white. Large envelopes, small envelopes, jiffy pack (bubble envelopes), clear envelopes, announcement envelopes, and many other envelopes. Whether you need us to replicate an existing envelope or design one from scratch, we have you covered. :
Announcement envelopes
Business envelopes
Card envelopes
Clasp envelopes
Invitation envelopes
Jumbo envelopes
Self-seal envelopes
Wedding envelopes
Window envelopes
Like we said, an envelope is the first impression. However, custom stationery or letterhead can be the lasting impression. Let us know how we can help you and we'll roll up our sleeves and get to work.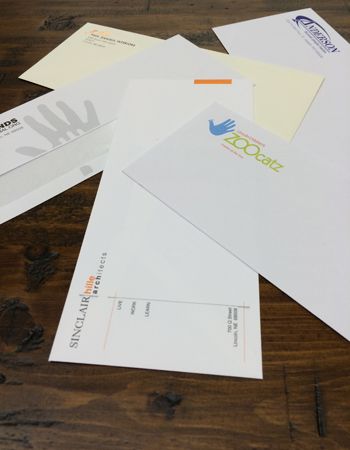 Call us for custom envelopes!